Click on any image below to display all from that Design Family.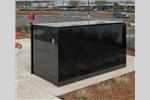 CycLockers
Modular bicycle storage cabinets for two bikes, used alone or in linear groups with common walls
Copyright 2018, Columbia Cascade Company, Portland, OR 97201 U.S.A. All rights reserved.
All original product designs illustrated herein are the intellectual property of Columbia Cascade Company and copyright in the year of their creation.